Experience the Bliss – Immerse in the Adventure
Say "I Do" – Belize Destination Weddings – On Site Wedding Planner – 12 Years of Designer Belize Beach Weddings
All Inclusive Belize Destination Beach Weddings!
From intimate ceremonies on our private pier over the Caribbean or wiggling your toes in our sandy beach, to reserving the entire resort exclusively for your wedding, family and guests, the options for your destination beach wedding are yours for the taking at Distinctly Belize . . . Chabil Mar!
A Belize Beach Wedding is a truly special experience of Romance and Adventure. Whether it's gazing up at the stars during lovely candlelit dinners and receptions, drinking in the view of the sun rising over the Caribbean, Island excursions for you and your guests, jungle adventures or marveling at ancient Maya temples that have survived for millennia, a Belize destination wedding is guaranteed to create memories that will last a lifetime.
Chabil Mar Resort (Maya for "Beautiful Sea") combines its boutique beach setting and lush floral environment with guest exclusivity, uniquely positioning itself to create the intimacy a wedding event deserves, yet large enough to include your family and guests in an all-inclusive celebratory atmosphere.
Step out from your Luxury Villa onto your personal veranda; inhale the delicate scent of a lush tropical garden, draped in flowers and the Caribbean Sea. This is your gateway to unforgettable romance. Chabil Mar is a premier wedding resort in Belize, celebrating its 12th year and over 150 bridal celebrations, thanks to its gorgeous location on the beach, close access to the nearby reef, lush landscapes of flora to surround you and top attractions of the sea and the mainland to feed your senses.
Deluxe accommodations, bouquets and boutonnières, customized chaise, an elegant wedding ceremony, music at the beach or on our private pier over the Caribbean, a reception with tropical delights for you and your guests, round out the all-inclusive wedding events at Chabil Mar. We make it easy. Our wedding planner will take care of all the required paperwork for your marriage and other in–country arrangements.
"Fairy Tale Wedding" – Bride Review: Tripadvisor
"Our entire group was treated like royalty for the duration of our stay. The location and landscape is breathtaking and the honeymoon suite is incredible. I can't recommend Chabil Mar enough for a beautiful destination wedding or vacation. Will definitely return!"
Our Belize Destination Wedding Packages Include
Wedding Planner

Decorated Custom Beach or Pier Arch/Chaise and Aisle for Ceremony

Tropical Bridal Bouquet and Groom Boutonniere

Bottle of Wine or Champagne on Your Wedding Day

Wedding Cake

Application and Processing of Wedding License
Minister's Fee

Registration of Marriage

Certified Copy of Marriage Certificate

Private Romantic Dinner on Pier
Photographer (2 Hours)
Transfers R/T From Placencia Airport to Chabil Mar
Additional Wedding Package Options Available
Video – Hair Services – Additional Flowers – Couples Massage – Music – Champagne Toast – Rehearsal Dinner – Reception Buffet or Sit-down Dinner (catering provided by Chabil Mar's renowned Chef Daniel) – Inclusive or Cash Bar – Dancing – Island Parties – On-Site Concierge Tour and Adventure Planning Services (Sea, Jungle and Mayan Excavations) for you and your guests – In-Country Transportation Needs for you and your Guests

NOTE:

Chabil Mar is a Guest Exclusive Resort. We do not charge an additional site fee for our Wedding Services. Our wedding site celebrations are for the exclusive use of our brides, grooms, their families & guests. Therefore, we do require that the bride and groom, and a percentage of their family & guests, stay at Chabil Mar. Villa Reservations are in addition to the Wedding Package and other fees for optional services you may select for your Romantic Belize Destination Wedding.
See what our guests have to say about their Belize destination wedding and honeymoon experiences:
"Beautiful Destination Wedding…We hosted our daughter's wedding at Chabil Mar and it was a fairy tale event from start to finish."
"A Lot Like Camelot…Chabil Mar was beautiful and the staff made us feel like royalty! I would not hesitate to recommend Chabil Mar…"

"Every detail of the wedding and reception was carried out without a hitch . . . Every staff member knew each of us by name and knew each of our guests as well. This kind of personal sincere graciousness and hospitality was unknown to us prior to visiting Chabil Mar, in spite of the fact that 1/3 of our attendees are former or current members of the hospitality service industry, including experience at 5 star properties."
Contact Our Wedding Coordinator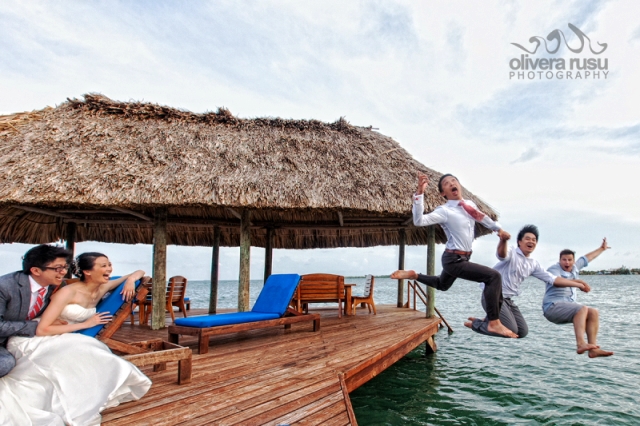 Photo Credits: Header of URL – Bride: Paul Audia and Ceremony: Olivera Rusu – Side Bar Photos: Olivera Rusu and Jose Luis Zapata and John Marcus Stroll