Knowing the names of the folks preparing palate-pleasing meals is a standard part of the Chabil Mar Villas experience. One Café Mar guest commenting on staff and food wrote: "Yours is not a restaurant in the traditional sense. I felt I was sitting down to dine with Mother Nature while experiencing freedom and beauty all around me." If you've never felt this way about your dining hosts, you've been staying at the wrong Belize resort! Your table awaits at Café Mar. When can we expect you?
Start with drinks…
Mixologists Darren and Edwin–plus Beach Captain Sheldon—run the Kaleidoscope Bar & Lounge and Café Mar so deftly, whether you prefer a refreshing local beer or the most exotic Caribbean cocktail that's ever been garnished with plump fruit, name your favorite and an icy glass will be in your hand fast. Don't miss happy hour at the Kaleidoscope where you can order a daily special or crowd-pleasing favorites like Chunky Monkey or the Chabil Martini—shaken or stirred.
Feast on the views
Al fresco dining gives new meaning to the word atmosphere at Café Mar. Sea breezes and swaying palm trees set a relaxed tone and since staff awaits any time between 7 a.m. and 9 p.m., dine when you decide, even during off hours. Chefs Amintha and Marsha love surprising guests, thus trying new recipes is as much fun for them as the preparation of ethnic Belize dishes. Who are the logistics managers behind your effortless Café Mar dining experience? Servers Junior and Luis, of course! Obviously, everyone's doing something right; another delighted diner commented, ""I am giving Chabil Mar a 5-star rating only because 6 is not an option!"
Bountiful breakfasts
Café Mar breakfasts are so hearty and filling, you'll be well fortified to face the day. Included on the Chabil Mar breakfast menu are familiar dishes and new tastes. Order your favorite style of eggs if that's your go-to breakfast, try Belize fried fish fillets with refried beans to change up your morning routine or get a true taste of Belize by ordering fry Jacks or Johnny cakes. Just-picked tropical fruits come with all orders and you can't leave Chabil Mar without eating the house breakfast special at least once: yummy banana pancakes.
Leisurely lunches
If Café Mar staff was forced to choose a lunch menu theme, it would be light and bright because midday meals are brightly colored works of art. Depending upon the time of year, your stuffed avocado may be lavished with shrimp or lobster accompanied by vegetables and laced with savory mustard sauce. Enjoy a traditional club sandwich with a variety of fillings stuffed between freshly-baked bread plus generous portions of French fries and coleslaw. Ask about specials of the day and if the marinated shrimp and conch ceviche is available, you've got to eat at least one of these, served with fried corn chips, before you leave Belize.
Delightful dinners
If it's harvested from the sea, count on Chefs Marsha and Amintha to impress you with their culinary skills. Menu favorites include sautéed-to-perfection shrimp marinated in Caribbean spices and coconut, bone-in, pineapple glazed pork chops, and Snapper Beurre Blanc, the artful marriage of pan-seared snapper atop delicate beurre blanc cream. Tired of chicken? Café Mar's grilled Orangello chicken breast is guaranteed to please the minute the grilled onion sauce with hints of citrus reach your taste buds. Visiting Chabil Mar during lobster season? Grilled lobster tails in garlic butter are sure to wind up on your plate more than once during your stay.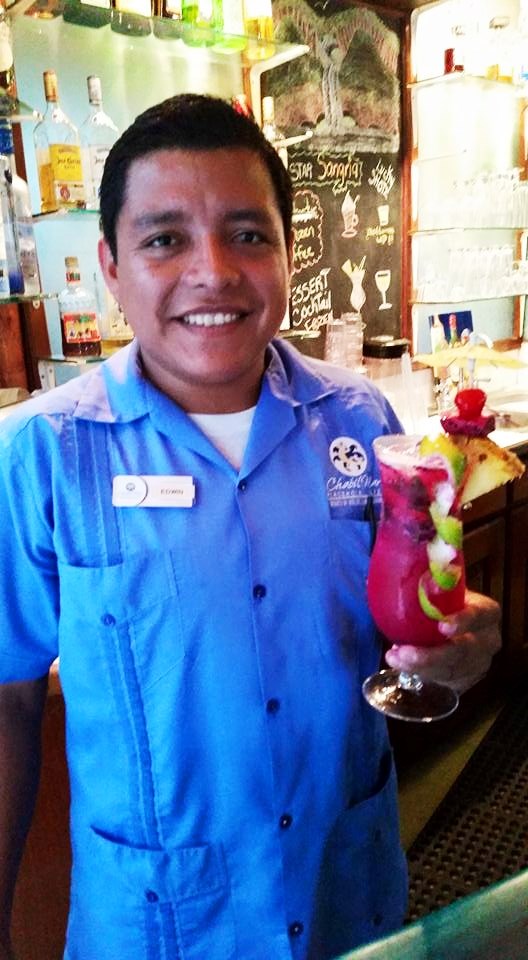 Dessert? How sweet it is
Food and Beverage Manager Hector is downright obsessive about details, so whether you long for a fabulous dessert or you wish to dine beachside, on your private veranda, have meals brought poolside or you request relaxing service on the pier, just say the word. Prefer to stay sequestered in your Chabil Mar Villa? No problem. Our chefs can arrange a private meal there. Enthused one guest: "We brought our fresh caught fish back to Chabil Mar and chefs turned it into the most divine meal we've ever eaten!" Sure, Chabil Mar has plenty of desserts on the menu, but the resort's award-winning kitchen staff, servers and bartenders are so sweet, you might not need one!