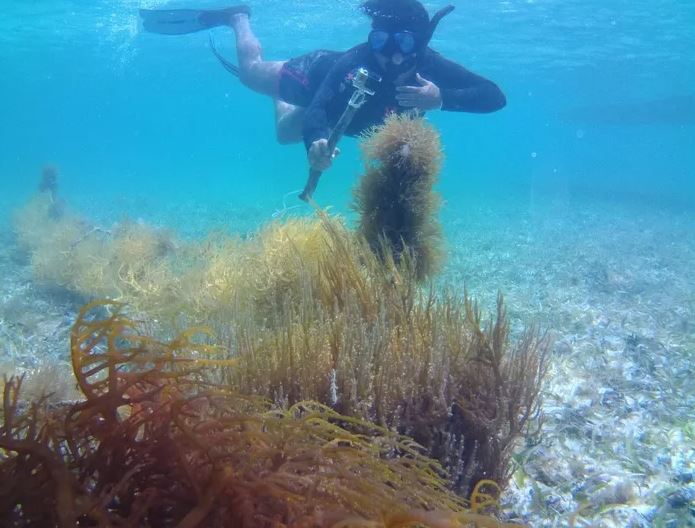 Belize has long been a magnet for ecotourism due to its incredible diversity of wildlife and the commitment of the Belize government to preserving delicate ecosystems. One of the loveliest areas in Belize is the
Placencia Peninsula
, which has some of the country's most scenic beaches. Now, this slice of paradise is also the home of the Belize Women's Seaweed Farmers' Association or BWSFA. The members of this group are passionate about maintaining the country's diverse natural beauty.
Over the last five years, The Nature Conservancy has partnered with both the government and local groups such as the BWSFA to develop a sustainable seaweed industry. The goal is to provide not just economic benefits for coastal communities but also ecological benefits for marine ecosystems. The coalition is therefore focused on innovative techniques that will satisfy both these requirements.
Seaweed farms function as natural carbon sinks that fight global warming and reduce the acidification of the ocean. They can create additional habitats and nurseries for marine creatures. Belize's collaborative seaweed farming programs focus on practices that benefit species such as the spiny lobster, conch, and many types of fish including parrotfish and snapper. Training sessions help interested potential farmers learn how to develop a sustainable livelihood for their families.
Seaweed itself is a superfood. It can be eaten as a snack or used as a supplement that is added to shakes, soups, etc. It can also be used in natural beauty products. The BWSFA sells its naturally and sustainably harvested seaweed in dried, powdered, and gel forms. To learn more about the BWSFA and its products, you can check out their website.
Visitors who would like to learn more about the unique ecology of Belize and experience a truly special vacation can come to
Chabil Mar Villas
.
As the full-service resort nearest to Placencia Village, it is the ideal location from which to learn more about the BWSFA, which is based in Placencia. Chabil Mar is also the ideal location from which to appreciate the diversity of Belize's marine life via snorkeling, sailing, and diving tours.
You can also arrange for a tour of the Belize jungle. A stroll along the beach will lead you to Placencia Village, the cultural hub of the area. Here you'll find artisans and fishermen, as well as restaurants, bars, cafes, and live music. Or, if you prefer a more private vacation, the resort has its own secluded beach, as well as two infinity pools and a private pier.
Visit our website
chabilmarvillas.com
for more information on Placencia and Belize, and don't hesitate to send us an
email
, or call US/CAN Toll Free: 1-866-417-2377, Local: (011-501) 523-3606, if you have questions or need help in planning your
Belize vacation
.