Thanks to a combination of the reef, a white sandy seafloor, and crystal clear waters, Belize is one of the world's best places to enjoy scuba diving.
Here are 10 reasons why you'll love scuba diving in Belize:
Belize Blue Hole
Rated by Jacques Cousteau as one of his top 10 favorite dive sites in the world. Measuring some 300 meters across, the Belize Blue Hole sits above an enormous system of flooded caves and caverns. For experienced divers only.
Lighthouse Reef
The Belize Blue Hole lies in the center of Lighthouse Reef, but there are plenty of excellent dive spots around the reef itself, including Half Moon Wall, the Gorgonian Forest, and the Silver Cayes.
Gladden Spit
Located on the outer edge of the Belize Barrier Reef, Gladden Spit is part of a protected marine park. Measuring 15 miles by 6.5 miles, there are plenty of rewarding dive spots where divers can see unique species found nowhere else.
Whale Sharks
Every year during springtime, migrating whale sharks pass through Belize near Gladden Spit. The largest fish in the oceans, whale sharks pose no risk to humans, giving divers a truly unique opportunity to approach these gentle giants. To protect the whale sharks, only authorized tour operators are allowed to approach, and the number of divers in the area is strictly regulated.
Turneffe Atoll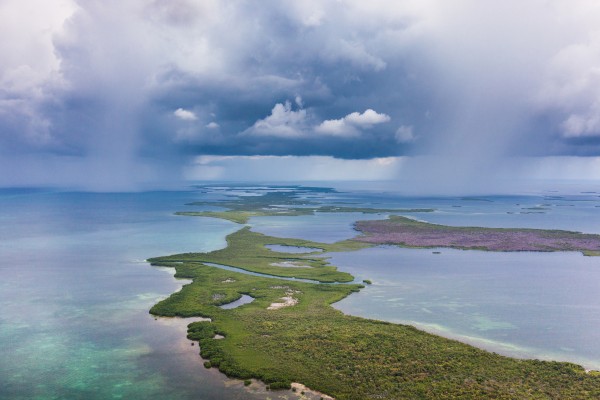 One of the top diving spots in the country, the Turneffe Atoll has several islands and lagoons brimming with beautiful spots ideal for diving.
Silk Cayes
A national marine park, the waters of Silk Caye near Gladden Spit have some spectacular walls and holes for divers to explore.
South Water Caye
There is a natural cut in the reef near South Water Caye, giving divers an excellent opportunity to see diverse marine flora and fauna.
Laughing Bird Caye
Another one of Belize's national parks, the island is known for its excellent snorkeling. But divers benefit from crystal clear waters and a kaleidoscope of marine life.
Long Coco Spit
Approximately three miles from Laughing Bird Caye, this formation is ideal for novice divers. Perfect for observing enormous schools of fish and black coral.
The Wreck of Miss Pamela
In 2002, the Miss Pamela was deliberately sunk to create an artificial reef. Clear waters and an abundance of huge barracuda feeding on schools of fish make this a rewarding dive.
For more information about scuba diving in Belize or Placencia, feel free to chat with our Concierge at: concierge@chabilmarvillas.com or contact our Reservations Manager at: reservations@chabilmarvillas.com. Or perhaps you would like to call toll free from the US or Canada: 1-866-417-2377.
Save
Save