Time for a Belize vacation? Might be wise to consider Belize, a country where almost everything is just visually stunning. Hopefully these 12 shots nudge you into checking out the ATM Cave, Belize Barrier Reef and Chabil Mar, the only guest exclusive resort in Placencia in a country where you will find new adventures around every corner.
The Great Blue is an azure submarine sinkhole that is a paradise for divers in search of crystal-clear water that hides treasures in its depths. It is one of the top attractions in Belize.
Scheduled every year in June, the Placencia Lobsterfest is a grand celebration of the opening of the lobster season in Belize attracting thousands of local and international visitors. If you intend to be in Belize in June, this is a must attend event.
Chabil Mar, Maya for "Beautiful Sea",  is a luxury, boutique resort that appeals to the discerning traveler looking to combine adventure and culturual experience with stylish, upscale and guest exclusive accommodations in Placencia Village . . . with every amenity at hand.
Every year on November 19, Garifuna Settlement day is observed which marks the arrival  of the Garifuna people in Belizean territory in 1802. The holiday was created by Thomas  Vincent Ramos, a Belizean civil rights activist and is celebrated for a whole week with  major festivities that include parades, live music, drumming, dancing, prayers and pageantry in Garifuna communities.
One of those beautiful things in Belize that locals and visitors enjoy is the colorful and Great Barrier Reef.  Even Charles Darwin, the world renowned Naturalist loved it that in 1842, he described it as the "most remarkable reef in the west indies."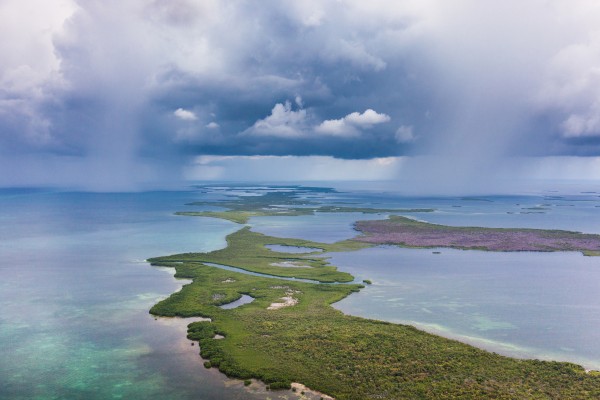 One rainstorm following the other in the Turneffe Atoll, Belize. Tony Rath Photography
One of the most endearing aspects of the Belizean people is their ability to achieve a very real and intimate connection with visitors from any country and every walk of life. The warm and friendly welcome you'll receive in Belize combined with the breathtaking adventures you'll experience will stir your soul, expand your mind and forever change your life.
The Belizean Rain forest holds attraction  such as rivers, caves, majestic wildlife and remnants of a once great Mayan civilization. Located in the Southern part of Belize, lies the quiet Village of Monkey River where one can gain access to the many sites and wonders found in Belize.
Every year in May, the Chocolate Festival attracts  hundreds of visitors from around Belize as well as overseas to Punta Gorda, Toledo District. This lively festival has helped Toledo shed its worn out image as "the forgotten district" and establish it as one of Belize's vibrant and growing tourism destinations. It also commemorates the tremendous contribution to development in the south made by the Toledo Cacao Growers' Association (TCGA) and its hundreds of farmer members.
Fishing in Belize is world class! At Chabil Mar, we pair our guests with expert full time captains whom we personally select for their expertise and who are experts regarding the waters in and around Placencia and the outlying Cayes. In fact, most of our captains have been fishing these waters their entire lives. Even the most experienced fishermen will find our guides top notch and relish working with these professionals.
Half Moon Caye in Belize offers divers the chance to go on a wall dive–a dive in which the vertical facades of the earth's landmasses are explored. The depths at Half Moon Caye (and really at any wall dive) are tremendous, giving you the very correct feeling that you are staring into an abyss. The waters at Half Moon Caye are particularly clear, despite the depth, so you will be able to see all manner of wildlife, including loggerhead turtles, rays, barracuda, and eels.
Locally known as Xibalba or ATM Cave, Actun Tunichil Muknal is one of the most breathtaking caving experiences you will have in Belize. The cave is located in the karstic limestone terrain of Roaring Creek Valley in the Cayo District and is approximately 5 km long and contains a perennial stream that runs through it including a ledge with two stelae and a large chamber full of intact human remains and Maya pots.
According to Archaelogists, Actun Tunichil Muknal was a sacred place to the Maya who utilized the cave during the classic period AD 250-909. Thousands of people are attracted to this cave annually due to its remarkable history, elegant stalagmites and stalactites and the Crystal Maiden, the intact skeleton of a young woman who was sacrificed to the gods.
For more information about Belize, feel free to chat with our Concierge at: concierge@chabilmarvillas.com or contact our Reservations Manager at: reservations@chabilmarvillas.com. Or perhaps you would like to call toll free from the US or Canada: 1-866-417-2377.