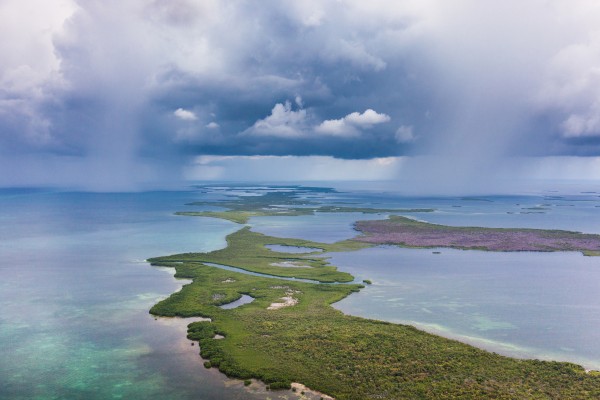 If you and a friend are (collectively) named Wendy and Peter, you might be eligible to win a free trip to Belize. The Belize Tourism Board is now offering a five-day excursion to the country for American residents named Wendy and Peter who email BelizeNeverland@gmail.com before May 14, 2018.
What prompted this offer of a free vacation is the announcement that Neverland, the fictional island where children never grow up, has been located in the real world. By studying visual clues in the book and film adaptations, the popular YouTube Channel The Film Theorists has identified the Turneffe Atoll in Belize as the "real" location of Neverland.
Of course, being fictional, Neverland doesn't actually exist. But the Turneffe Atoll is the only location on the planet that matches key aspects of the Peter Pan book and movies. The Film Theorists "located" Neverland on the Turneffe Atoll by first comparing the direction of travel of Peter and his friends as they left London. By analyzing visual clues, The Film Theorists discovered that Peter Pan was heading southwest across the ocean, indicating that their destination was somewhere in the Americas.
Visual depictions of Neverland in the movies show it to be an island surrounded by lagoons, a unique feature of atolls, only three of which can be found in the western hemisphere. Another key clue was a scene involving Captain Hook (a key personage in the book and movie) and a large saltwater crocodile species only found in the Caribbean. The clinching piece of evidence that Turneffe Atoll is Neverland is that Captain Hook is based on a real pirate named Blackbeard who used the atoll as a base of operations in the 17th century.
The Turneffe Atoll is located approximately 20 miles off the coast of Placencia and is part of the UNESCO World Heritage Belize Barrier Reef, the largest barrier reef in the western hemisphere. Measuring 30 miles by 10 miles, the Turneffe Atoll is the largest atoll in Belize and consists of several lagoons and mangrove forests. Now part of a protected marine reserve, the Turneffe Atoll is a popular destination for snorkeling, scuba diving, fishing, and sailing where more than 500 species of fish and 65 species of sea turtles, manatees, and dolphins live.
Located in Placencia on Belize's Caribbean coast, Chabil Mar Resort offers scuba diving packages to the Turneffe Atoll and other astoundingly beautiful sites on the Belize Barrier Reef.
Visit our website 
chabilmarvillas.com
 for more information on Belize, and don't hesitate to send us an 
email,
 or call US/CAN Toll Free: 1-866-417-2377, Local: (011-501) 523-3606, if you have questions or need help in planning a 
Belize vacation
.