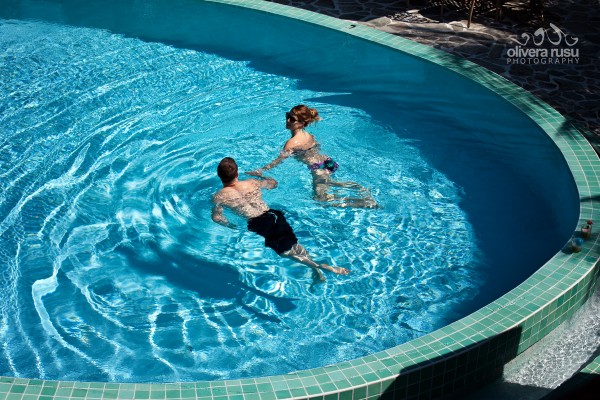 Vacationers looking for Mother Nature's personal hideaway will find it amid the spectacular reefs and rainforests in the heart of Belize. Whether your dream can be fulfilled by diving a coral reef, snorkeling or fishing—or perhaps you've longed to spend time in rainforests where bio-diversity surrounds you—find both here in Belize.
But why settle for one experience when green season prices give you twice as much value for your money? By choosing a rainforest and reef vacation package, you stay at an award-winning resort like Chabil Mar and an award winning resort partner, both of which are in close proximity to the most outstanding forests, jungles and reefs of all.
What can you expect if you're lucky enough to partake of what's fondly known as a "swimsuit and hiking boot" experience in Belize? Seven days of nonstop activity, fun and excitement minus the fussy wardrobe! A Belize jungle and sea adventure includes a second resort location, so when you're not at Chabil Mar, tuck into a Chaa Creek cottage and enjoy meals as part of the all-inclusive reef and rainforest package. Dessert? That's the 365-acre nature reserve that surrounds you at Chaa Creek.
Set off on excursions to fascinating Mayan ruins, each of which is unique. Tikal, an ancient Maya City in Guatemala is not far away from the border of Belize and treats you to awe-inspiring palaces, temples and courtyards. Visit Barton Creek Cave for a completely different Maya experience. Within this fascinating cave are artifacts, relics and remains that depict a different aspect of Mayan culture: rather than living in the sophisticated dwellings built at Tikal, this underworld of dark mystery housed indigenous peoples, all of whom disappeared without a trace.
While you've got those hiking boots on, guides will take you through a magical butterfly farm, satisfy your curiosity at the area's natural history center, lead you on nature walks through landscaping that's lush and exotic and you'll find more historical wonder at the Xunantunich Maya site. When you've had your fill, it's time to change into your swimming togs for a seaside adventure using Chabil Mar as your home base.
Set off early from your luxury villa where meals are included in your package. Stroll 400-feet of private beach to get your feet wet before going to the Great Belize Barrier Reef for your fill of diving, snorkeling and/or fishing. If you prefer to take water sports into your own hands, paddle out to sea onboard a kayak courtesy of Chabil Mar or take a Monkey River boat ride to see for yourself just how loud those Howler Monkeys can be.
Perhaps you're asking: How can I cram all of this into just one week? Won't it cost me a fortune? The answer is no: It's summer season in Belize so the crowds are gone and your resort hosts are prepared to treat you like you're the only guest on premises. They'll fine tune your tour schedule like a symphony conductor making sure every instrument is pitch perfect.
Given green season prices, fewer crowds and hosts ready to treat you to the best Belize has to offer, taking a pass on an R&R vacation right now makes absolutely no sense! Strike while the opportunity is hot by booking immediately—and don't bother packing a big suitcase. Visitors have been known to arrive with swimsuits, hiking boots and very little else.