The term "honeymoon" simply appeared in the 16th Century, but the origins of the word honeymoon are lost in time. Some believe the word denotes the full moon under which couples wed centuries ago. Others swear that the honey prefix refers to the honey mead served at Teutonic European weddings.
In the Western Hemisphere, our tradition is relatively new. The post-nuptial getaway only gained popularity in the 1930's in North America, but there seems always to have been a honeymoon vibe in Belize, where romance, privacy and scenery combine to deliver the world's most idyllic post-wedding experience. Does one honeymoon style rule in Belize? Not on your life. From adventurous experiences to intimate nesting during which time newlyweds disappear from sight for days on end, you won't have trouble finding your bliss here in Belize.
1. The weather is idyllic year-round. Even during the green season—June to October—rain showers come as quickly as they disappear giving honeymooners excuses they need to duck into their accommodations to wait out the rain by doing what couples do best after their nuptials–play cards. Lots of guests even rave about the gentle sound of rain on the roofs of their honeymoon suites during the night! The green season is known for its sparse tourist scene so you two can walk the beach hand-in-hand and never spot a soul.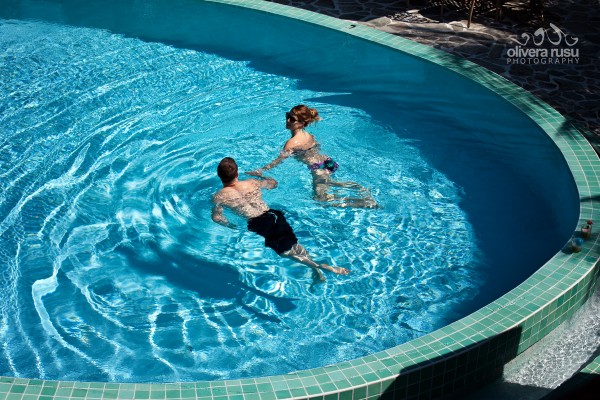 See also: 12 Amazing Good Reasons to Honeymoon in Belize
2. The prices are terrific. One of the reasons Belize has become the Mecca for honeymooners when compared to other Central American destinations has a lot to do with great prices throughout the nation, especially during the aforementioned green season. Package deals at popular honeymoon resorts like Chabil Mar make brides and grooms grin with relief and joy, because by choosing an all-inclusive honeymoon package, you two don't have to make a single decision, beyond whether you will dine on site or go into the nearest town for a bite to eat.

3. The privacy is incomparable. Hundreds of Belize Cayes hug the mainland; some so tiny, a single resort occupies the entire atoll. At Chabil Mar, villas and suites tucked into jungle gardens, hugging the sea or shaped into discreet little quarters that shout seclusion, you'll come into contact only with creatures who won't speak a word about your stay: fish, manatees, turtles, dolphins and birds. If your idea of heaven is speaking to nobody but your new spouse during your stay, consider that wish granted. There's a reason TripAdvisor has bestowed awards on this resort annually since 2009: What happens at Chabil Mar, stays at Chabil Mar!
4. The distance is doable. Forget spending the onset of your honeymoon weary and worn out because neither of you thrive when extreme time differences strike, yet you were willing to trade jet lag for the exotic experience you both craved. Take advantage of new routes established by major airliners like American and Southwest to meet the increasing demands of honeymooners departing from Dallas, Miami, Houston and other major U.S. and Canada cities. We're just five hours from New York City! In some cases, you won't have to change your watch by more than an hour.
See also: 21 Reasons to Get Married in Belize
5. The experiences are memorable. Take all of the photos you like while you honeymoon, but don't be surprised if the adventures, tours and experiences you have in Belize are carved upon your hearts. Roam ancient Mayan ruins. Scuba dive. Go sailing as part of a unique Chabil Mar honeymoon package that sets you up on the most romantic journey of all: You and your new spouse sun on The Wild Orchid, a luxury 46-foot-long Catamaran Yacht staffed by the most discreet crew on the planet. Indulge in all sorts of aquatic sporting activities by day before spending the night together in your cabin on the water. Now, that's honeymooning Belize style!